Seville Cathedral and Giralda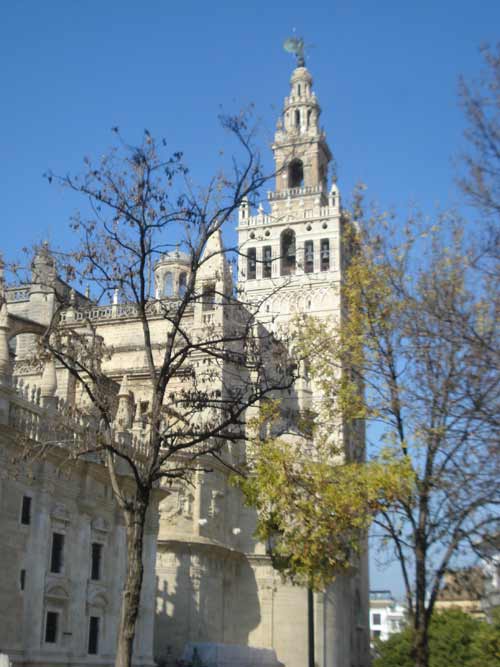 Nieves, your tour guide for Seville, Cádiz and Córdoba will accompany you on such an outstanding tour explaining all the details of this famous monument, its main historical features and more than a nice anecdote. You can book a visit only to this place or include it in any of the guided tours that Nieves, your guide offers you.
This is one the main tourist visits to Seville thah you should not miss. The Cathedral and Giralda of Seville were declared a World Heritage Site by the UNESCO in 1987. It is the most representative temple of the city, whose splendid past is present in the architecture of its buildings and chapels and in the countless works of art that it treasures.
With Muslim Almohad origins (12th century), of which the Patio de los Naranjos and the famous Giralda tower are good examples, what would become the largest Gothic temple in the world is the result of an ambitious project that was conceived in the 15th century in late gothic style, and later Renaissance extensions of the highest quality.
The baroque, so important in Seville, left its mark on innumerable altarpieces and works of art. Inside, the remains of Christopher Columbus and his son Hernando, founder of the best Renaissance private library (the Biblioteca Colombina) rest.In summary, a whole compendium of art and history that arouses admiration.
To visit Seville, Cádiz or Córdoba I offer you the service of guided tours, because I am a tourism professional (Official Guide) and I will help you to know our culture. Enjoy tourism in Seville with the best guided tours (tourist tour) to get to know the city. In case you do not find the places or monuments of your interest, contact me through the contact form and I will inform you of any doubts you may have.
I am an Official Tourism guide, they also call me a tourist guide, local guide, city guide, interpreter guide, tourist informant and heritage interpreter guide; I am a professional legally authorized by the official agencies and competent authorities of the cities where I usually carry out my professional activity as an official tourist guide.
My activity is that of the tourist guides, in a habitual and paid way, I provide information, support, guidance and assistance services, in tourist and cultural, monumental, artistic, historical and geographical or natural (ecological) matters, to those who make visits to the historical-monumental, cultural and natural assets that are part of the Historical Heritage.

Tourist routes designed by Nieves, your official tourist guide, authorized by the Junta de Andalucía with Nº 4258
Nieves Chisvert Jiménez
Avenida del Deporte, 1
Bloque 4
41020-SEVILLA
Copyright NIEVES, your tour guide – March 2019 – All rights reserved