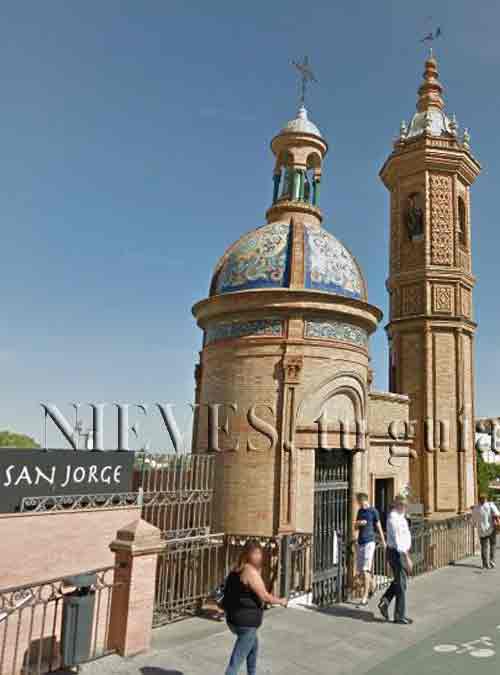 Nieves, your tour guide for Seville, Cádiz and Córdoba will accompany you on such an outstanding tour explaining all the details of this famous monument, its main historical features and more than a nice anecdote. You can book a visit only to this place or include it in any of the guided tours that Nieves, your guide offers you.
The Castle of San Jorge is partially preserved under the current Mercado de Abastos de Triana, built after the abandonment and demolition of much of its interior, although largely reusing its exterior walls. After some campaigns of archaeological excavations can be visited at the present time the rest of the buildings that integrated it, because the castle enclosed an authentic citadel where prisoners and jailers lived.
The castle, of Almohade origin (thirteenth century), was erected to face possible Christian attacks from upstream, and was integrated into the Islamic defensive system of the city as protection of the bridge of boats. Once reconquered Seville, the castle was placed under the jurisdiction of the Order of the Knights of St. George. In its precinct the primitive parish of Triana was built, which from 1276, with the building of the parish of Santa Ana, remained as a hermitage.
After several events became the first Spanish headquarters of the Court of the Holy Inquisition, created in 1480 by the Catholic Monarchs to ensure the religious unity of their territories. Although in principle it served to persecute Jewish converts accused of celebrating Judaizing rites, it later also served to persecute and punish the Protestants.
For almost 300 years the Inquisition persecuted, tortured and executed thousands of people. Many died in prison; others were executed in public squares or on the outskirts of the city. Not even the condition of a religious freed some from falling into their clutches. The Inquisition was abolished in 1820, although the Court had already moved in 1785 to another place, due to the poor state of the fortress caused by successive floods.
The visit of the castle allows us to contemplate the vestiges of streets and interior squares, houses of inquisitors, cellars, kitchens and stables, as well as some cells, to conclude in a Memorial with some of the most famous characters who went through the ordeal of being imprisoned between its walls. Pettiness and envy are evident in some of these biographies, reflecting a time of intolerance.
To visit Seville, Cádiz or Córdoba I offer you the service of guided tours, because I am a tourism professional (Official Guide) and I will help you to know our culture. Enjoy tourism in Seville with the best guided tours (tourist tour) to get to know the city. In case you do not find the places or monuments of your interest, contact me through the contact form and I will inform you of any doubts you may have.

Tourist routes designed by Nieves, your official tourist guide, authorized by the Junta de Andalucía with Nº 4258
Nieves Chisvert Jiménez
Avenida del Deporte, 1
Bloque 4
41020-SEVILLA
Copyright NIEVES, your tour guide – March 2019 – All rights reserved