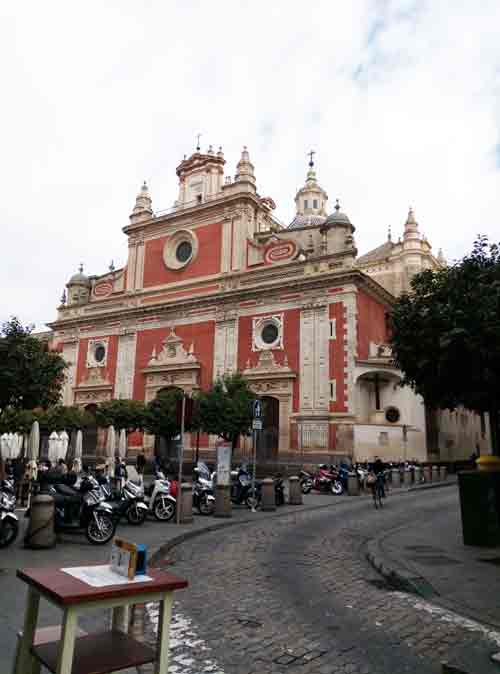 Nieves, your tour guide for Seville, Cádiz and Córdoba will accompany you on such an outstanding tour explaining all the details of this famous monument, its main historical features and more than a nice anecdote. You can book a visit only to this place or include it in any of the guided tours that Nieves, your guide offers you.
This is a tourist visit of great importance that you must include in your visit to Seville. Erected between the end of the 17th century and the beginning of the 18th, the old Collegiate Church of El Salvador is the result of the last glimmerings of the opulence of a city that would soon lose the monopoly of trade with the Americas.
El Salvador, of a dazzling baroque, is the second temple of Seville because of its size, and one of the most loved by the Sevillians.
Architects such as Leonardo de Figueroa, altarpieces and sculptors of the class of Cayetano de Acosta, Juan de Mesa, Martínez Montañés, Pedro Roldán or José Maestre, and painters such as Juan de Espinal, among others, left samples of the best of their art among the walls of this great temple.
At present the church hosts two Easter brotherhoods whose main images can be seen in their altarpieces: the Christ of Passion and the Christ of Love. The visit with Nieves, your tour guide for Seville can be done independently or together with the Cathedral, since both churches are included in the same ticket.
This visit you can dedicate a special interest or include it in any of the tours that Nieves, your guide offers you among other highlights.
To visit Seville, Cádiz or Córdoba I offer you the service of guided tours, because I am a tourism professional (Official Guide) and I will help you to know our culture. Enjoy tourism in Seville with the best guided tours (tourist tour) to get to know the city. In case you do not find the places or monuments of your interest, contact me through the contact form and I will inform you of any doubts you may have.

Tourist routes designed by Nieves, your official tourist guide, authorized by the Junta de Andalucía with Nº 4258
Nieves Chisvert Jiménez
Edificio Málaga
41022-SEVILLA
Copyright NIEVES, your tour guide – March 2019 – All rights reserved