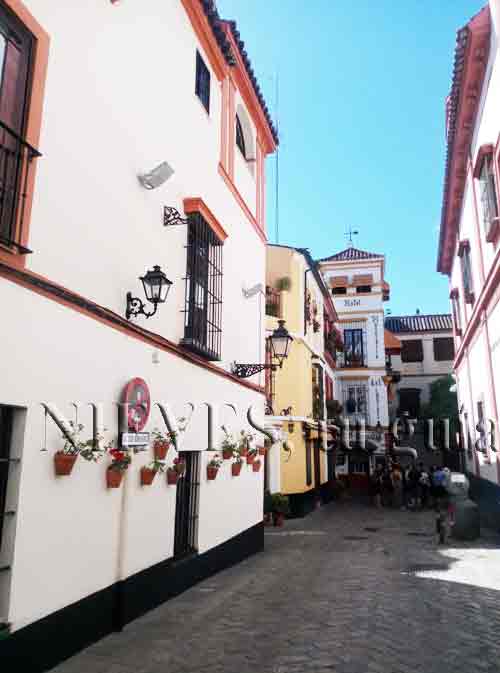 Nieves, your tour guide for Seville, Cádiz and Córdoba will accompany you on such an outstanding tour explaining all the details of this famous monument, its main historical features and more than a nice anecdote. You can book a visit only to this place or include it in any of the guided tours that Nieves, your guide offers you.
It is the best-known neighborhood of Seville, an old Jewish quarter, scene of many legends. Its urbanism of Islamic roots, its narrow and winding streets, its peaceful squares, its green patios … A delight that later reforms failed to undermine.
There are still few remains of the wall that closed the Jewish quarter in a vain attempt to protect the Hebrew community, finally forced to leave the city. Of its three synagogues two are preserved, both converted into churches (one of them, the baroque jewel of Santa María la Blanca).
A neighborhood whose streets has unique names: Calle Vida, Calle Muerte or Susona, Callejón del Agua, Calle del Beso, Calle Pimienta, Calle Verde.
A neighborhood to walk through its squares: the Plaza de Santa Cruz (presided over by its magnificent seventeenth-century locksmith's cross); Dona Elvira's (where the fountain sings); that of the Columns (the most romantic); that of Refiners (remembrance of Don Juan Tenorio and his impossible love); that of Santa Marta (the most isolated); the square of Alfaro (with its "opera" balcony).
A neighborhood to see old manor houses such as Miguel de Mañara's, the Altamira palace, the Padilla's House  and the Marqueses de Dos Hermanas' (both are part of a hotel at present), Casa Salinas or Casa Fabiola, between others, which stand out in a labyrinth of small houses clustered in narrow streets.
Not forgetting the convent of "Las Teresas", founded by Santa Teresa de Jesús herself during her stay in the city, or the House of Murillo, residence of the Sevillian painter.
To visit Seville, Cádiz or Córdoba I offer you the service of guided tours, because I am a tourism professional (Official Guide) and I will help you to know our culture. Enjoy tourism in Seville with the best guided tours (tourist tour) to get to know the city. In case you do not find the places or monuments of your interest, contact me through the contact form and I will inform you of any doubts you may have.

Tourist routes designed by Nieves, your official tourist guide, authorized by the Junta de Andalucía with Nº 4258
Nieves Chisvert Jiménez
Edificio Málaga
41022-SEVILLA
Copyright NIEVES, your tour guide – March 2019 – All rights reserved