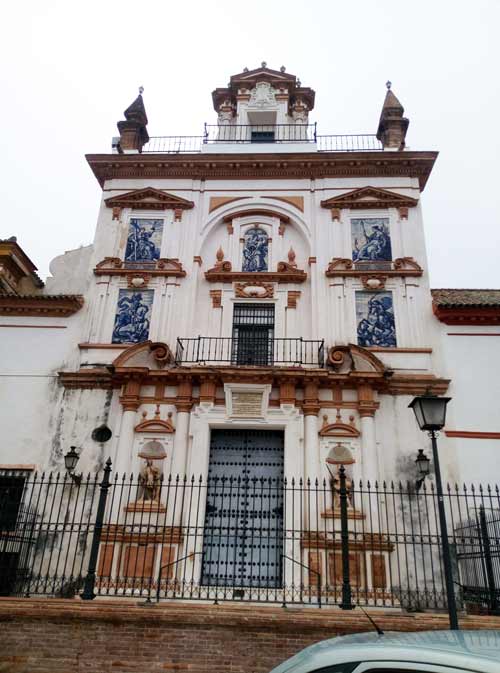 Nieves, your tour guide for Seville, Cádiz and Córdoba will accompany you on such an outstanding tour explaining all the details of this famous monument, its main historical features and more than a nice anecdote. You can book a visit only to this place or include it in any of the guided tours that Nieves, your guide offers you.
The Hospital de la Caridad is a magnificent building created in the seventeenth century to assist the indigent sick and give a Christian burial to those drowned in the river.
It is the great work of Miguel de Mañara, a Sevillian of high birth who decided to dedicate his fortune and his life to the care of the less favored of the opulent Sevillian society of the seventeenth century.
The set of dependencies of the hospital, built between the ships of the neighboring Atarazanas (some of its arches were reused in the set), is largely preserved almost intact, especially its large entrance courtyard, actually two courtyards with two sources central separated by a gallery on arches. But what stands out most of all is the church, building a great constructive and decorative unit.
The decoration of the church follows the iconographic program designed by Mañara himself, whose reference is the Charity: paintings, altarpieces and mural painting, everything speaks of the exercise of charity with a baroque language that keeps a great harmony and that was made by the best artists of the time: Murillo, Valdés Leal, Bernardo Simón de Pineda, Pedro Roldán …. A set without equal in Seville for its quality and its unity of style.
To visit Seville, Cádiz or Córdoba I offer you the service of guided tours, because I am a tourism professional (Official Guide) and I will help you to know our culture. Enjoy tourism in Seville with the best guided tours (tourist tour) to get to know the city. In case you do not find the places or monuments of your interest, contact me through the contact form and I will inform you of any doubts you may have.

Tourist routes designed by Nieves, your official tourist guide, authorized by the Junta de Andalucía with Nº 4258
Nieves Chisvert Jiménez
Avenida del Deporte, 1
Bloque 4
41020-SEVILLA
Copyright NIEVES, your tour guide – March 2019 – All rights reserved