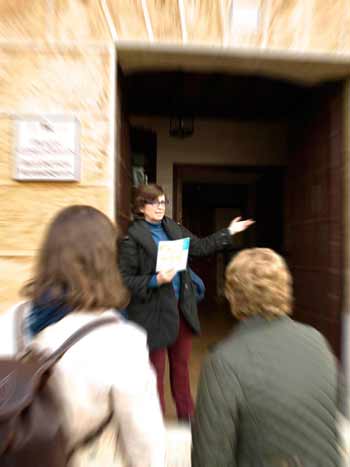 My name is Nieves, I am an Official Tourist Guide by the Junta de Andalucía number 4258. I have a degree in Geography and History from the University of Seville.
I have focused my career and my training in the study and promotion of Seville and I worked for many years as an urban archaeologist (I then had the opportunity to collaborate professionally in the restoration of some important buildings in Seville). In addition, I worked as a History teacher in a local high chool for some years. All this experience contributed to my broad and detailed vision of my city.
Currently I am an Official Tourist Guide, and I enjoy helping visitors to discover one of the most beautiful and charming cities in the world.
Seville treasures art, gastronomy and music in every corner. I like to guide tours and make tourist visits around my city knowing that people from every part of the world have chosen it among so many destinations. I am from Seville and although I do not get carried away by chauvinism, I am well aware of living in a city full of beauty and history. I love meeting people from different countries and assisting them in their stay to make their visit to Seville an unforgettable experience.
You realize how beautiful Seville is when you hear the visitors remark on it and marvel before its monuments, streets and squares. Really? … someone has to come from outside to make us appreciate what we have right before our eyes? Because Seville is a great place to walk, to eat, to sing and to dance … Its countless bars and restaurants, its heady fragrance made up of convent sweets, orange blossom, incense, its light and, why not say it?, everyone knows about it! Its high temperatures in summer … but we survive!
I feel proud of being able to show Seville, because I am a guide, in the best sense of the word, a professional of tourist visits and tours that makes a visit to an unknown place a unique and unforgettable experience. No verbosity, no rigidity nor frivolity but professionalism and entertainment hand in hand, or at least that is my intention.
I invite you to visit my city. Let's design together a particular visit, an itinerary, an experience. You can choose one of the predesigned tours, or let me know your preferences to adjust my services to your needs and make a private tour of your choice.
I am an Official Tourism guide, they also call me a tourist guide, local guide, city guide, interpreter guide, tourist informant and heritage interpreter guide; I am a professional legally authorized by the official agencies and competent authorities of the cities where I usually carry out my professional activity as an official tourist guide.
My activity is that of the tourist guides, in a habitual and paid way, I provide information, support, guidance and assistance services, in tourist and cultural, monumental, artistic, historical and geographical or natural (ecological) matters, to those who make visits to the historical-monumental, cultural and natural assets that are part of the Historical Heritage.
If you want to solve your doubts call me

Tourist routes designed by Nieves, your official tourist guide, authorized by the Junta de Andalucía with Nº 4258
Nieves Chisvert Jiménez
Avenida del Deporte, 1
Bloque 4
41020-SEVILLA
Copyright NIEVES, your tour guide – March 2019 – All rights reserved