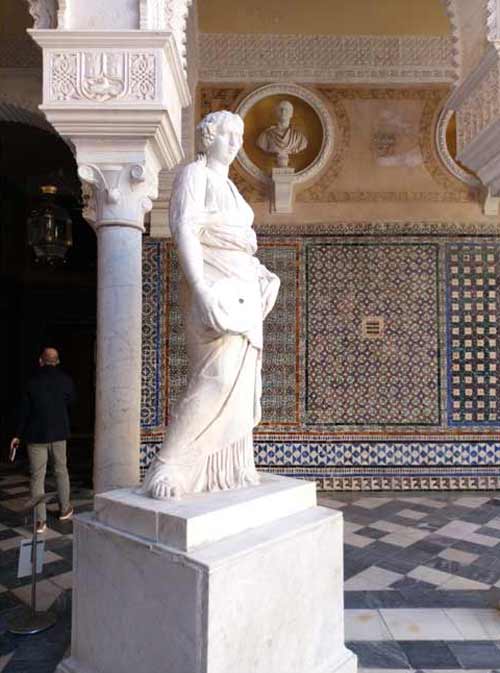 Nieves, your tour guide for Seville, Cádiz and Córdoba will accompany you on such an outstanding tour explaining all the details of this famous monument, its main historical features and more than a nice anecdote. You can book a visit only to this place or include it in any of the guided tours that Nieves, your guide offers you.
The largest noble palace in Seville and one of the most beautiful in Spain, it was built between the end of the 15th century and a large part of the 16th century and is a masterpiece of the Sevillian Renaissance. The numerous Mudejar features that blend in its decoration and the traces of its Gothic beginnings, especially present in the private chapel, contribute to its beauty.
The palace is the work of one of the leading noble families of Seville, the Enríquez de Ribera, one of whose members introduced into the city the taste for the Renaissance style he had learned on his trip to the Holy Land, when he walked to Jerusalem he stopped months in the flourishing Italy of the Cinquecento. His fortune was used to buy Roman marbles and antiquities and to bring from Italy the architect who would transform the Gothic palace into the best example of Sevillian Renaissance private architecture. His nephew and successor would continue to embellish the family palace with new contributions brought from the Italian peninsula. The concept of a house museum where integrating and exhibiting the collection of Roman antiquities set a precedent among the noble families of the city.
The palace houses the largest private collection of tiles in the country, all of them from the Sevillian workshops of Triana from the 16th century. And a large collection of Roman sculptures, some of great quality.
Come and discover the reason of its unique name and the beauty of its patios, halls and gardens.
To visit Seville, Cádiz or Córdoba I offer you the service of guided tours, because I am a tourism professional (Official Guide) and I will help you to know our culture. Enjoy tourism in Seville with the best guided tours (tourist tour) to get to know the city. In case you do not find the places or monuments of your interest, contact me through the contact form and I will inform you of any doubts you may have.

Tourist routes designed by Nieves, your official tourist guide, authorized by the Junta de Andalucía with Nº 4258
Nieves Chisvert Jiménez
Avenida del Deporte, 1
Bloque 4
41020-SEVILLA
Copyright NIEVES, your tour guide – March 2019 – All rights reserved