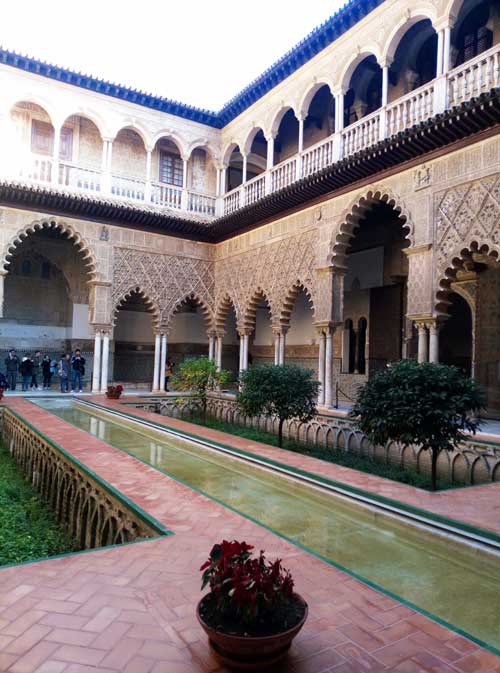 Nieves, your tour guide for Seville, Cádiz and Córdoba will accompany you on such an outstanding tour explaining all the details of this famous monument, its main historical features and more than a nice anecdote. You can book a visit only to this place or include it in any of the guided tours that Nieves, your guide offers you.
This is another of the tourist visits that you should not miss in your stay in Seville.  El Alcázar de Sevilla was declared a World Heritage Site by UNESCO in 1987. The alcázar (fortified palace) fascinates visitors with the impressive originality and beauty of the Mudejar Palace of Pedro I, the building that attracts all eyes, and where numerous movies have been filmed.
But a view of the Alcázar is much more than this: the remains of the Islamic era (9th-12th centuries), such as the walls and the decorative Patio del Yeso; the gothic palace of Alfonso X the Wise, later transformed into halls for royal parties; the Hall of Justice, one of the oldest examples of Mudejar architecture in the city (Alfonso XI); the badly named "Baños de María de Padilla", where Pedro I was relaxing in the company of his lover; the rooms where the Catholic Monarchs lived and Doña Isabel gave birth to her only son, or where she had long conversations with Christopher Columbus.
The House of Trade (founded by Isabel), with the Hall of the Admirals, where a beautiful Virgin of Navigators embraces under its Renaissance mantle sailors and governors involved in the discovery and colonization of America;
the reforms and buildings financed by the Emperor Charles I, who chose the city for his wedding with Isabel of Portugal … A palace that has never lost its role as a royal residence and has been re-arranged by each monarch with the best of each era. Without forgetting its extensive and leafy gardens: to get lost (there is even a labyrinth!).
To visit Seville, Cádiz or Córdoba I offer you the service of guided tours, because I am a tourism professional (Official Guide) and I will help you to know our culture. Enjoy tourism in Seville with the best guided tours (tourist tour) to get to know the city. In case you do not find the places or monuments of your interest, contact me through the contact form and I will inform you of any doubts you may have.
It is important to note that it is one of the most visited monuments of our city so you should book the visit well in advance because there are usually long queues waiting for access to the monument, which you will avoid by hiring this visit with Nieves, your guide to Seville, since being an official tourist guide can offer you a preferential access, avoiding the long queues that most of tourists suffers.

Tourist routes designed by Nieves, your official tourist guide, authorized by the Junta de Andalucía with Nº 4258
Nieves Chisvert Jiménez
Avenida del Deporte, 1
Bloque 4
41020-SEVILLA
Copyright NIEVES, your tour guide – March 2019 – All rights reserved