Santa María de las Cuevas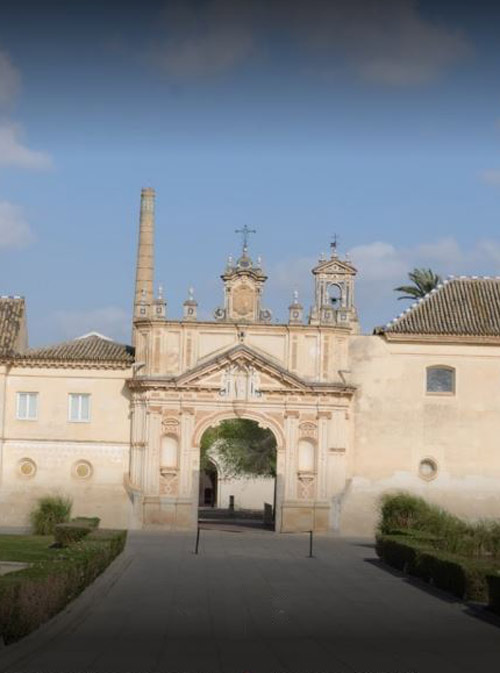 The Carthusian Monastery of Santa María de las Cuevas, was founded in 1400 by the Archbishop of Seville Don Gonzalo de Mena, turned into a pottery factory in the 19th century by Charles Pickman, and rescued from his abandonment to become, after his rehabilitation integral, in the Royal Pavilion of the Universal Exhibition of 1992.
It is a monastery that, enclosed behind its walls, retains its original size and much of its Carthusian splendor and its past as a faience factory, all integrated into a set that offers new uses to the city: Museum of Contemporary Art and Andalusian Institute of Historical Heritage.
Christopher Columbus was buried in this monastery before his remains left for Santo Domingo, thanks to the friendship he established with a Carthusian friar. Its walls were decorated by the best of Triana tiles, including one of the first works of Niculoso Pisano.
From the Cartuja period the church with its chapels, the refectory, part of the cloister of monks and the magnificent Claudillo Mudéjar, where the magnificent tombs of the co-founders, Pedro Enríquez and Catalina de Ribera, are preserved, converted into rooms of the Museum, are converted into rooms of the Museum. , in addition to other relatives, all in the Chapter Room
The numerous works of art that enriched it are today the great majority in the Seville Museum of Painting, or in the cathedral, after the expropriation of the monastery for its transformation into one of the largest and most famous factories in the city: Pickman earthenware. Artists of the caliber of Zurbarán, Pedro Duque Cornejo, and Martínez Montañés worked here, as the Sevillian monastery became one of the richest monasteries in the city. With its ensemble of the Chapel of Afuera, whose church is better preserved because it never lost its religious function, the monastery sums up a good part of the history of Seville.
For its part, the IAPH (Andalusian Institute of Historical Heritage) is based on the remains of the cloister of the laymen and the area of warehouses, mills and administrative areas cartridges and factories. It is the part of the monastery that has been transformed the most, due in large part to its worst state of conservation. On the other hand, the part that best reflects the past of the enclosure as a ceramic factory, where the 5 magnificent bottle furnaces and other facilities of the factory founded in 1845 with English techniques have been preserved. Interesting example of the industrialization of Seville.

Tourist routes designed by Nieves, your official tourist guide, authorized by the Junta de Andalucía with Nº 4258
Nieves Chisvert Jiménez
Avenida del Deporte, 1
Bloque 4
41020-SEVILLA
Copyright NIEVES, your tour guide – March 2019 – All rights reserved