Church Saint Louis of the French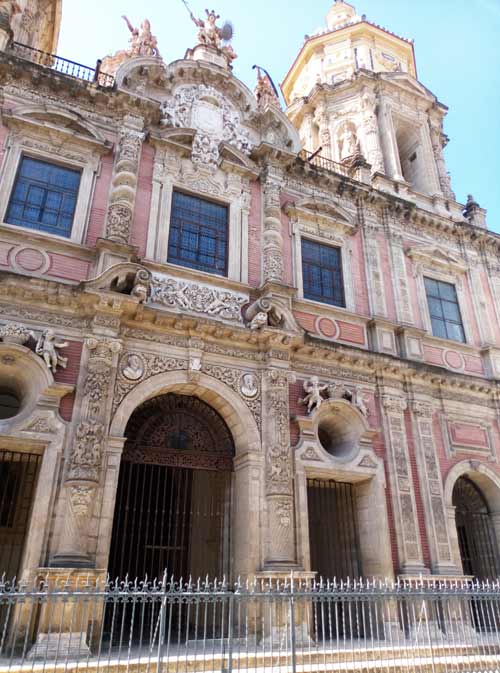 Nieves, your tour guide for Seville, Cádiz and Córdoba will accompany you on such an outstanding tour explaining all the details of this famous monument, its main historical features and more than a nice anecdote. You can book a visit only to this place or include it in any of the guided tours that Nieves, your guide offers you.
Is undoubtedly the most baroque building of the baroque Seville, and the great unknown of the Sevillians and visitors, despite its good state of conservation.
Its name is due to the donation of the land by Mª Luisa de Medina, Duchess of Alcalá, for the construction of a Jesuit novitiate. The Duchess wanted to dedicate the church to the French saint king Louis IX, at the same time that it pleased the newly established Bourbon dynasty. The visit includes the public church, dedicated to the novices, the private or domestic church, and the great crypt, recently opened to visitors.
The Jesuit's Novitiate church was built between 1699 and 1731 by the Sevillian baroque. architect: Leonardo de Figueroa. The Baroque style of its façade, however, does not allow us to imagine what awaits us inside: the entrance to the church always overwhelms. His baroque style stuns and impresses, while the light leads the view upwards towards the dome that occupies the entire center of the building. Then, the look is lost in the thousand devices used in its intricate decoration, where architecture, sculpture and painting merge into a total unity.
Its sophisticated iconographic program gives the church a great theatricality that encloses a complex and didactic symbolism, whose intention is to impress and indoctrinate the novices and prepare them for their evangelizing work
The so-called Domestic Chapel is part of the visit, somewhat smaller and with a more sober architecture, although its decoration is also Baroque. This chapel was for the use of the Jesuit priests. It is dedicated to the Virgin, although the representations of Jesuit saints are numerous. As in the main church, the various arts merge into a decoration of great visual impact, its structure being simpler.
To visit Seville, Cádiz or Córdoba I offer you the service of guided tours, because I am a tourism professional (Official Guide) and I will help you to know our culture. Enjoy tourism in Seville with the best guided tours (tourist tour) to get to know the city. In case you do not find the places or monuments of your interest, contact me through the contact form and I will inform you of any doubts you may have.

Tourist routes designed by Nieves, your official tourist guide, authorized by the Junta de Andalucía with Nº 4258
Nieves Chisvert Jiménez
Avenida del Deporte, 1
Bloque 4
41020-SEVILLA
Copyright NIEVES, your tour guide – March 2019 – All rights reserved