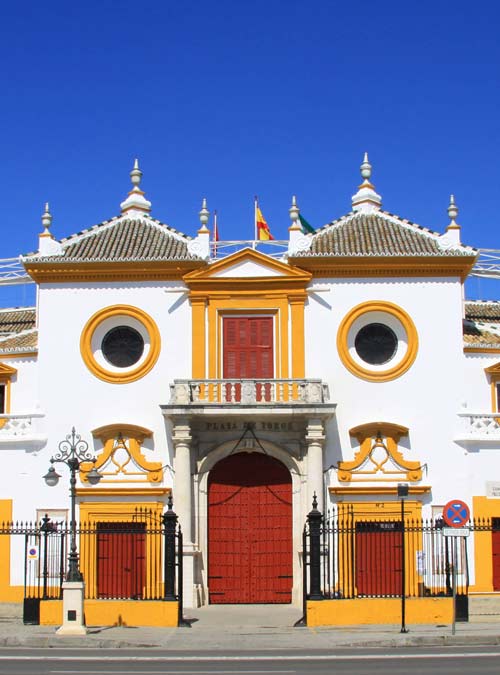 Nieves, your tour guide for Seville, Cádiz and Córdoba will accompany you on such an outstanding tour explaining all the details of this famous monument, its main historical features and more than a nice anecdote. You can book a visit only to this place or include it in any of the guided tours that Nieves, your guide offers you.
The bullring of Seville, "Cathedral of Bullfighting" according to the fans, is one of the most beautiful and with more tradition of Spain. It has the status of BIC (Property of Cultural Interest) and is owned by the Real Maestranza de Caballería de Sevilla, an institution that dates back to the reconquest of the city in 1248 and was founded as such in 1670, during the reign of Carlos II.
The bullring is located in the neighborhood of Arenal, very close to the Guadalquivir river, and stands out for its whitewashed walls and colorful yellow sands (the albero).
The Real Maestranza obtained the permission of Felipe V to build a bullring in 1733, but the first was built in wood and square shaped. After other trials in wood and already with round shaped, the current one was started in 1760.
It took 120 years to build it (from 1760 to 1881) partly due to lack of funding and, above all, because of the ban on bullfighting promulgated by Carlos III, that lasted 60 years. Its irregular layout is due to this long construction process, because it is not a perfect circle, but a polygon with 30 unequal sides.
Fernando VII gave an important support to the bullfighting party with the founding of the Bullfighting School of Seville, and his appointment as Big Brother of the Corporation in 1823.
The art of bullfighting evolved from its noble origins on horseback, to popular bullfighting on foot, a process that is well described in the interesting Bullfighting Museum that houses the Maestranza. Old uniforms of maestrantes, costumes of bullfighters, representations of bulls, and other curious pieces offer an interesting account that informs the visitor of various historical aspects of the world of bullfighting.
Stands out the collection of prints, paintings and posters, and especially the series of twelve prints by the great Francisco de Goya, a painter closely linked to bullfighting, as well as works of contemporary artists of great prestige.
To visit Seville, Cádiz or Córdoba I offer you the service of guided tours, because I am a tourism professional (Official Guide) and I will help you to know our culture. Enjoy tourism in Seville with the best guided tours (tourist tour) to get to know the city. In case you do not find the places or monuments of your interest, contact me through the contact form and I will inform you of any doubts you may have.

Tourist routes designed by Nieves, your official tourist guide, authorized by the Junta de Andalucía with Nº 4258
Nieves Chisvert Jiménez
Avenida del Deporte, 1
Bloque 4
41020-SEVILLA
Copyright NIEVES, your tour guide – March 2019 – All rights reserved