Official tourist guide for Seville
… it's a great day to walk around Seville
Do you want to form a group with your friends?
Check the routes I can offer you
 Do you have any doubt ? Complete the form and I will give you all the explanations you want:
If you want to solve your doubts call me
SEVILLE TOURIST MONUMENTS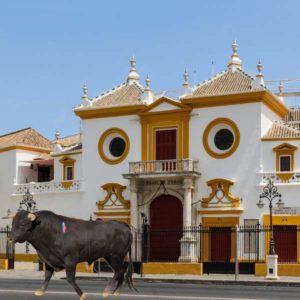 The "cathedral of bullfighting ", according to many fans. One of the most traditional and beautiful in Spain. The visit includes the arena and two museums dedicated to the world of bullfighting and to the collection of paintings and engravings held by the Real Maestranza de Caballería de Sevilla, owner of the enclosure.
Nieves, your official tour guide
If you want to solve your doubts call me

Tourist routes designed by Nieves, your official tourist guide, authorized by the Junta de Andalucía with Nº 4258
Nieves Chisvert Jiménez
Avenida del Deporte, 1
Bloque 4
41020-SEVILLA
Copyright NIEVES, your tour guide – March 2019 – All rights reserved